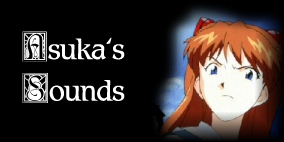 This is a collection of Asuka sounds. Click on the quotes to download. Japanese sounds are coming soon!
WARNING: SOME OF THE LINKS MAY BE WRONG/BROKEN, IF THEY ARE PLEASE E-MAIL ME!
ENGLISH
"I'm Asuka! Asuka Langley Sohryu. I'm the designated Pilot of Eva-2."
"I'm Asuka Langley Sohryu! Charmed, huh?"
"First child's feeling aggressive, and I'll bet she'd do anything to stay number one! Some people just think they're better than others."
"Because it would be, convienent!"
"Get it out of my mind! Please God, its changing my mind!"
"Has it taken you this long to realize that? What an idiot!"
"I should never kiss to kill time!"
"It's about time you got up, you idiot!"
"Morning, the beginning of a day, another terrible day. I wish this wasn't the way it is."
"Don't worry Hikari, it'll never happen! If Shinji's denser than lead, then Rei Ayanami's off the atomic scale!"
"Who in the hell is OKAY?! How could it get any worse? That little bitch...! That little bitch Rei rescued ME! Don't you know I'd rather have died?"
"I've really hit rock bottom when I get sympathy from a loser like YOU!"
"When the next Angel comes, our invincible Shinji will ride up and destroy it! We little girls don't have to fight anymore!"
"They only need that pathetic Shinji!"
"What the hell does that mean?"
"You stupid pervert I didn't mean to get THAT up!"
"That little bitch...! That little bitch Rei rescued me!"
"A fight should be clean and elegant, without waste."
"I TOLD you not to disturb me!"
"Idiot, what do you think you're doing?"
STUFF ASUKA SAYS IN ENGLISH DUB IN GERMAN
ENTIRE SCENES
SOUND EFFECTS